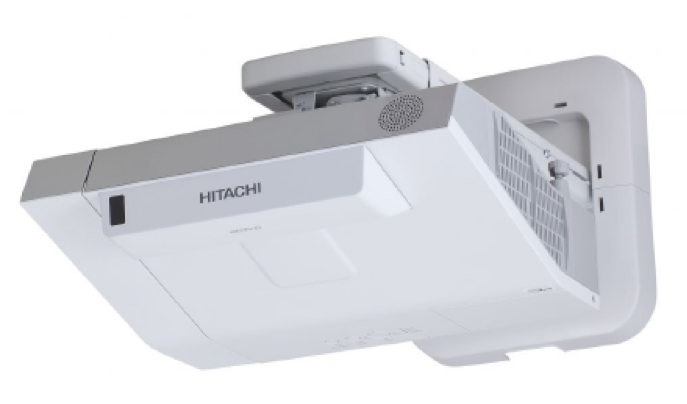 Consider the new Hitachi LCD Interactive Projector like a small computer with its own hard drive that can be used as follows:
A regular projector for displaying images when an active Smartboard is still in the room.
A 'Smart Projector' replacing the interactive Smartboard's functionality.
Images can be created and saved to the internal hard drive of the projector.  If needed, images can be transferred to another device with a USB connection.
The Hitachi projector is connected via an HDMI cable to your laptop.  If there is a requirement to transfer files between your laptop and the projector, a USB cable is also needed to communicate between the two.  When you want to use a computer to access files, or copy files, the projector MUST be in computer mode. To change that setting use the remote > Advanced menu > IWB > Memory access.
The toolbar will display 4 icons to start.   When a computer is attached, the projector should be in Computer mode.  To use in Standalone mode, the pencil icon should be selected.

To draw an image, you MUST use one of the 2 Infrared Pens that come with the projector.   Infrared Projector pens use 2 AAA batteries.  Store them carefully to avoid draining the batteries.   If the pen doesn't appear to be working check pen mode to ensure it is selected (Pen Stylus, Menu Item – Check Pen mode)
There are several, pre-installed TEMPLATES stored in the projector.  To access them, select the Folder icon on the toolbar.

PLAIN:  Different colors for background
LINED AND PATTERNED:  Math, Music, Grammar, etc. 'blackboard' templates
GRAPHIC ORGANIZER: Different ways to organize images

To save a newly created image, go to the Folder icon on the toolbar, then to the Floppy/USB icon.  You can save the image to the projector.  User created images will be saved in the shared PJ_Capture folder (beside the Templates folder) which is created the first time something is saved.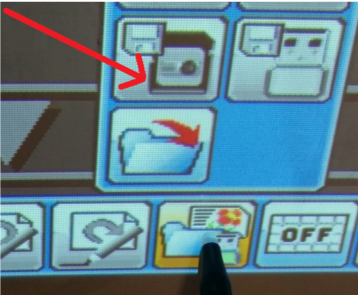 The projector can support up to 6 users simultaneously.
MENU BUTTON ON REMOTE: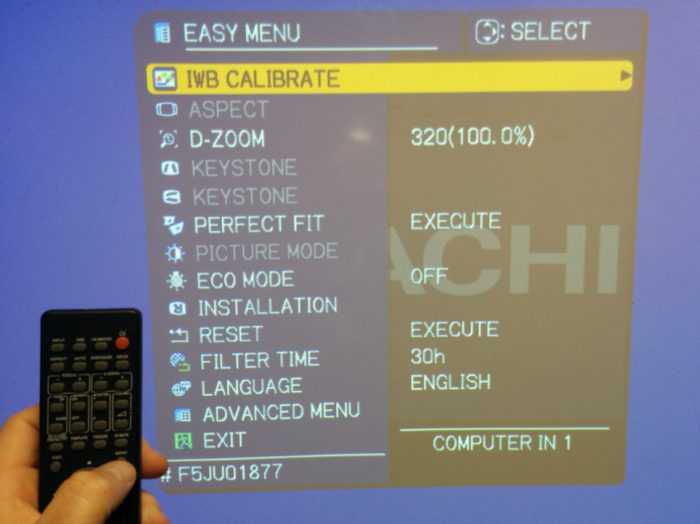 MENU BUTTON, EASY MENU:
IWB Calibrate – (auto, or manual calibration ~ 'Smartboard orientation')
Perfect fit – adjust size of display to fit the screen
Picture mode – (darker, lighter, etc. – set to Normal by default)
ECO Mode – Adjust to determine what is being displayed – movie, excel, etc.
Installation  (eg. to turn upside down screen back to normal after factory reset)
Reset  (going back to factory defaults, – screen might turn upside down.  To
 turn it back to normal, go to 'Installation' options.)  Reset does not delete personal files, only user settings.
Language
Exit
Projector S/N – displayed at the bottom, under 'Exit'  (eg.: # F5JU01877)
Advanced Menu:
ADVANCED MENU:
IWB – Memory access, Projector, or computer mode to project, Auto, or manual calibration, Multi display, etc.
Input – Video format, etc.
Setup – Zoom, Perfect fit, Installation (rotating screen), etc.
Audio – setting Volume, Speaker, Sound source, Mic., etc.
Option – set time (min.) for Auto Power Off, etc.
Network – Networking (IP address), SNTP, Wireless, SSID, Projector Name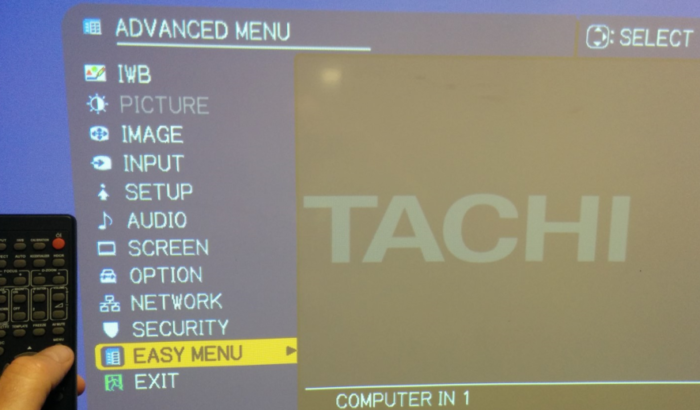 Calibration is automatic from the button selection on the remote
For additional settings hit the wrench icon on the toolbar  (One of the first 4 icons.)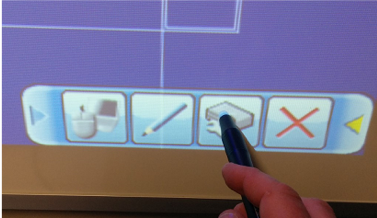 For saving lamp (bulb) service time, hit the OFF button on the top of the options.  The projector will keep running, but the lamp will be turned off. It will resume instantly by touching the board with the infrared pen.

Have a question?  Need Help?
Call 705.748.4861 ext.281, email helpdesk@pvnccdsb.on.ca, or click here to submit a work order.